Watershed Challenge...
---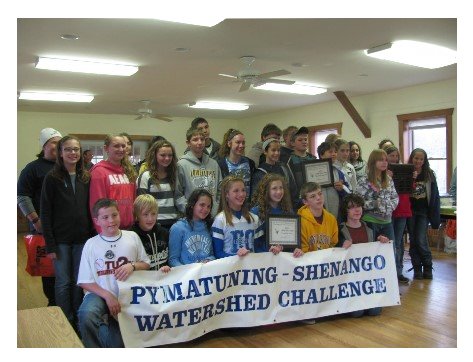 The Pymatuning/Shenango Watershed Challenge is a hands-on, interactive environmental competition for students in grades 6th - 8th. The competition is open to schools in Ohio (Ashtabula, Trumbull and Mahoning Counties) and Pennsylvania (Crawford, Mercer and Lawrence Counties). Schools may send up to two teams of 3 to 5 individuals.
As a team, the students answer questions on aquatics, forestry, soils, watersheds and wildlife. The teams get the chance to meet with specialists from each of these areas and after the competition, enjoy a light lunch and an awards ceremony.   
2023 Junior Envirothon/Watershed Challenge Registration/Release Form
---
Aquatics Study Material:
Macroinvertebrate Life in the River
10 Least Wanted Aquatic Nuisance Species
---
Forestry Study Material:
The Threat of Non-Native Forest Insects and Diseases
Trees for People: Urban Forestry 101
Forestry Information - Tree I.D.
---
Soils Study Material:
Healthy Soils are Full of Life
---
Watersheds Station Study Material:
---
Wildlife Station Study Material
---
For more information, please contact:
Amy Reeher, Watershed Coordinator
(330) 637-2056, ext. 8624
amy@trumbullohswcd.org